ITER captivates audiences at EU Sustainable Energy Week (EUSEW)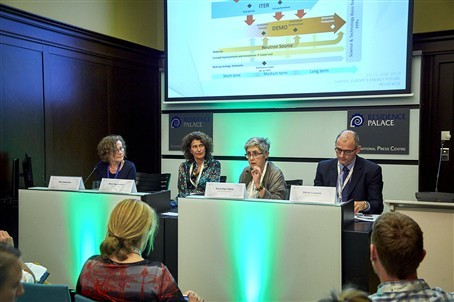 The EU Sustainable Energy Week (EUSEW), organised by the European Commission, has celebrated its 14th edition. Over time the event has grown in size, popularity and has become a reference to several policy communities, companies, laboratories, activists. By bringing together more than 4 000 participants, 380 speakers contributing to more than 90 policy sessions, it has become the ideal setting to network, make political declarations, launch new projects highlighting our commitment to cutting down greenhouse gas emissions by making Europe a pioneer in the production of sustainable, clean and efficient energy.
The multiple scenarios of power supply developed by Europe stress the need a broad mix of resources which are able to complement one another depending on several factors such location, consumption, population density, landscape, access to fuel, climate, regulatory framework, infrastructure. In a nutshell, we ought to keep an open mind and be ready to make adjustments to solve the energy conundrum. In line with this thinking, a session was dedicated to fusion: the energy source of the future to explain its merits, the investment undertaken by the EU, and its contribution to ITER- the biggest scientific collaboration aiming to bring a step closer this abundant energy.
The panel brought together representatives from the European Commission's Directorate General for Energy; the Directorate General for Research and Innovation, ITER Organization; Eurofusion. The session kicked off with an outlook of the future energy needs, the existing technologies available and the transition required in meeting the goals set by the Energy Union. The track record of fusion technology was presented through key European experiments such as JET, W7X in their attempt to help physicists and engineers to harness the energy of the future. Next, a presentation on ITER and its state of progress, conveyed with reassurance that fusion is not as far away as think. With nearly 60% of the construction phase of the project completed, and first plasma scheduled for 2025, we were getting closer to putting a small sun in a box. The transition from ITER, which is an experimental device, to a machine like DEMO, which will be connected to the grid, concluded the session offering insight to future developments. A lively discussion followed during which attendees raised questions on schedule, technology and safety.