Martina Dlabajová witnesses first-hand the progress of the ITER construction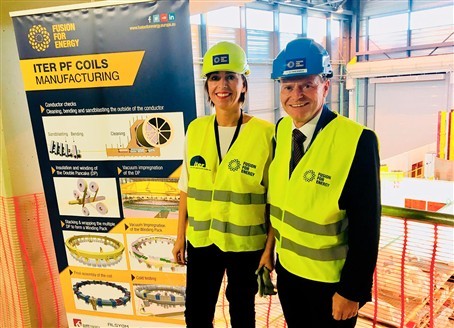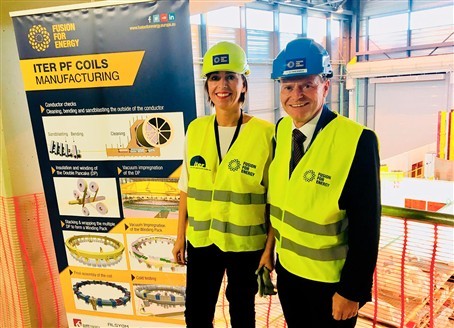 Martina Dlabajová, MEP of the Group of the Alliance of Liberals and Democrats for Europe and Vice-Chair of the Budgetary Control Committee of the European Parliament, visited the ITER site in Cadarache. As rapporteur for the 2017 budgetary discharge of F4E, Martina Dlabajová was keen to receive an update on the overall progress of the ITER project and in particular on the contribution of Europe.
Accompanied by F4E's Director Johannes Schwemmer, the Czech MEP spent more than two hours on the site currently bustling with activity, with stops at the PF building to witness the progress of the manufacturing of the gigantic poloidal field coils, and at the Cryoplant building where Europe has installed the liquid nitrogen plant of the impressive cryogenic system needed to cool down the powerful magnets of ITER. The site tour continued with a visit of the cathedral-high Assembly Hall where some of the components will be pre-assembled before being installedin the adjacent Tokamak building, the heart of the ITER machine. Martina Dlabajová said that she is "truly impressed by the significant progress of the ITER construction since my last visit back in August 2015. I am now more convinced than ever that the project will meet its targets and I would be happy to report the progress of ITER to my colleagues in the Budgetary Control Committee, as rapporteur of the 2017 discharge report."
The site tour was followed by a presentation of the project milestones and manufacturing progress of the ITER components around the world by Bernard Bigot, ITER Director-General. Martina Dlabajová expressed her thanks to the ITER Director-General Bernard Bigot and F4E Director Johannes Schwemmer "for the extensive tour of the ITER site and for their continuing leadership moving the ITER project ahead and on the right track."
F4E and the ITER Organization expressed their gratitude to the MEP for her keen interest and support of ITER and invited her to come back anytime to keep up to date on the progress of the project.