Power to the magnets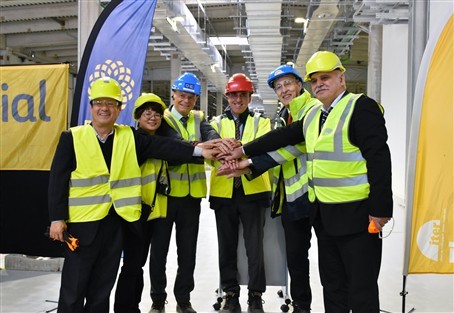 Europe is responsible for the construction of the 39 buildings and facilities on the ITER site. Every time one of them is completed it is handed over to ITER Organization. The transfer of ownership signals the official go-ahead for the installation of equipment supplied by the seven Parties. Three more buildings have been recently completed raising the total to four so far.
The two 150 m long Magnet Power Conversion buildings with a surface of 4.900 m2 destined to house electrical converters, switches, and fast discharge units are ready. The equipment to be delivered by China, Korea and Russia will operate like an AC/DC converter to feed the ITER magnets with current in order to get superconductive and confine the super-hot plasma. The Reactive Power Compensation building, a smaller facility housing the electrical equipment to stabilise the power supply, has also been completed.
A small ceremony was organised on-site to mark the occasion bringing together the ITER parties which have a stake in these buildings together with Ferrovial, the company entrusted by F4E to perform this task, on top of its involvement in the consortium responsible for the construction of the Tokamak complex.
It took nearly two years to design the facilities and three years to conclude their construction counting on the support of 150 people at peak time. The handover ceremony paves the way forward for installation which will be supervised by ITER Organization and China.