2009 F4E Annual Report published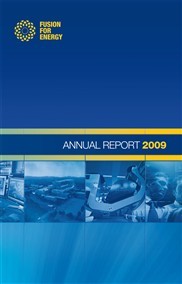 The publication of the 2009 F4E Annual Report offers a comprehensive account of the different achievements regarding the evolution of our organisation and its duty managing Europe's contribution to ITER.
In 2009 F4E consolidated its structure and strived to deliver on all its commitments vis à vis the Community and international parties. This was the year that the construction of the ITER project was launched with the signature of the first manufacturing contract for the superconducting magnets. By the end of the year F4E placed about 50 contracts for around 100 million EUR.
On the international stage, F4E negotiated and signed eight Procurement Arrangements (PAs) with the ITER Organization with a credited value of around 400 million EUR in areas such as the Buildings, Magnets and Vacuum Vessel. In addition, F4E entered into 39 credited Task Agreements to carry out specific activities in support of the ITER project. In parallel, F4E conducted a thorough risk and cost analysis linked to the ITER construction design specifications and schedule. The activity on the site increased with the first contract for the construction of the Poloidal Field Coils building signed in December. With respect to the Broader Approach, progress was made, in particular for the JT60-SA Satellite Tokamak and the International Fusion Materials Irradiation Facility (IFMIF) projects with the signature of PAs for the value of just under 20 million EUR.
F4E continued to grow counting over 200 members of staff. The establishment of the F4E Cadarache antenna for Site, Buildings and Power Supplies as well as the setting up of the Staff Committee merit separate reference. F4E hosted the ITER IO – Domestic Agencies Coordination meeting and welcomed several important dignitaries including José Montilla, President of Catalonia at the time and H.M. King Carl XVI Gustaf of Sweden as the patron of the Royal Swedish Academy of Engineering Sciences.
You can either receive a hardcopy of the 2009 F4E Annual Report upon request or download it from here.