Europe to lighten 1280 beamlets at the ITER Neutral Beam Test Facility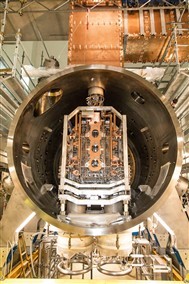 F4E, Consorzio RFX, ITER International Organization, and the companies providing the equipment to SPIDER (Source for Production of Ion of Deuterium Extracted from Radio Frequency plasma), have celebrated the completion of another milestone. The most powerful negative ion beam source to date has been installed in its vacuum vessel. Step-by-step the 5 tonne equipment, measuring 3 x 3 x 2 m, has been inserted with extreme precision in the metallic vessel which will keep it electrically insulated up to 100 kV. The delicate operation has been performed with a handling tool which lifted the component with extreme care and by sliding onto rails it delivered it to its final destination.
The operation unfolded at the ITER Neutral Beam Test Facility (NBTF), where SPIDER is located, on the premises of Consorzio RFX (Padua). This is a one-of-a-kind test bed for ITER's heating systems which in practical
terms will help scientists and engineers to obtain know-how, to develop and to operate the ion sources for the Neutral Beam Injectors that will be used to heat ITER's super-hot plasma
A European consortium consisting of Thales, CECOM Srl, Galvano-T GmbH and E.Zanon SpA has been responsible for the manufacturing of the equipment, which started almost four and a half years ago, for value of roughly 10 million EUR, including the costs for the fabrication of the vacuum vessel and the handling tool. The beam source was delivered towards the end of October last year. The insertion of the component in the vacuum vessel carries significant importance to the teams of F4E, Consorzio RFX and ITER IO because it paves the way for the operation of SPIDER energising a beam made of 1280 powerful beamlets.
So what is the current state of play and the steps to follow? The team of engineers at the NBTF has moved ahead with the connection between the beam source and the three 100 kV bushings of the electrical and radiofrequency lines, the busbars, the diagnostics cables, hydraulic and gas connections, and fiber optics. Subsequently, leak tests will be performed to check the hydraulic system, and then the various pieces of equipment will be commissioned. When this stage is reached, we will be officially starting with the integrating commissioning of SPIDER, which will represent a major milestone for the ITER project and the fusion community. We will be paving the way towards the manufacturing of the ITER Neutral Beam Injectors.