F4E Information Day paves the way to the production of European Test Blanket Modules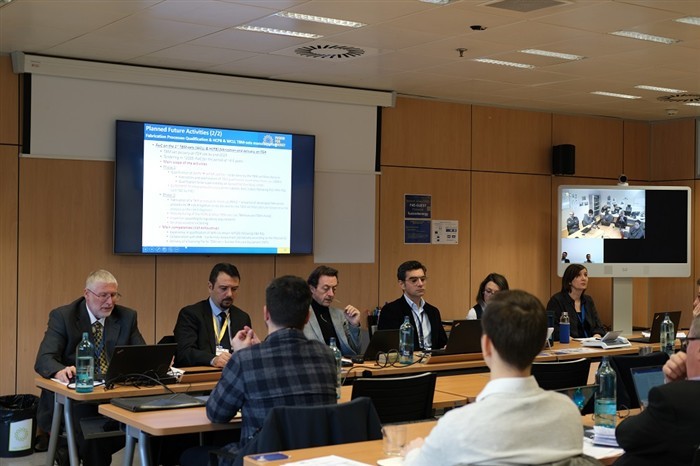 Fusion devices following ITER, like DEMO for instance will need to re-generate the tritium consumed during the reaction, and to extract the thermal power produced by the plasma efficiently for the production of electricity. Tritium breeder blankets will help experts to reach these objectives. For years, Europe and other ITER parties have been investing in this area of work aiming to test four Test Blanket Modules (TBMs) concepts in the ITER. Europe is currently developing two models: the Water-Cooled Lithium-Lead (WCLL) and the Helium-Cooled Pebble-Bed (HCPB). For their fabrication, Europe has opted for EUROFER97, a reduced activation ferritic martensitic mat​erial. Pressurised water and pressurised helium technologies will be used to extract the heat of the TBMs.​
The work put by Europe's teams in the field of TBMs has reached the point of testing the feasibility of fabrication and assembly processes. It's an essential step prior to their production. Experts are mainly interested in the processes and technologies for the manufacturing of EUROFER97 components, the development of preliminary welding and assembly procedures for the TBM box, its manifold area and radiation shield. The methodology followed by experts today is aiming at meeting the requirements of the future conformity evaluation in line with the French regulation for nuclear pressurised equipment. It is for this reason that experts from APAVE SUDEUROPE are assisting F4E in developing the technical work plan.
Consequently, F4E took the initiative to host an Information Day on the 4th of March to offer background information and details on the future launch of a framework contract expected to run for five years (starting in 2021) in this area. At least twelve entities expressed interest​ in the briefing to understand the scope of the work, the range of skills, capabilities and expertise required. Presentations given by F4E staff explained the manufacturing strategy of TBMs, the main requirements, current achievements in the field of development. In addition, administrative and procurement modalities, quality assurance and intellectual property rights aspects were discussed. Last but not least, F4E offered the possibility of B2B meetings between participants giving them the opportunity to highlight their expertise and pursue possible partnerships for a future tendering.
To view the material of the Info Day click here.
Further information on the launch of the framework contract will be made available here.