JT-60SA cryostat vessel body manufacturing completed and on its way to Japan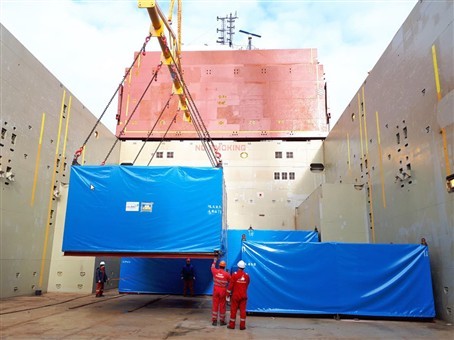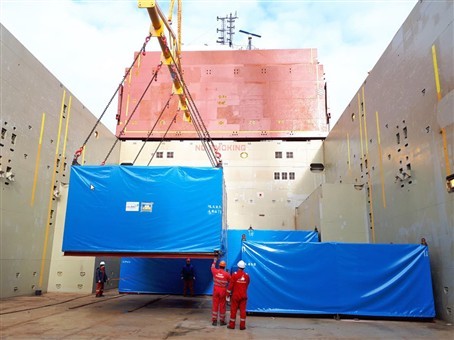 With the full completion of the manufacturing of the JT-60SA cryostat vessel body and successful pre-assembly and metrology at the Asturfeito S.A. factory in Aviles, Spain, the Spanish voluntary Broader Approach contributor, through CIEMAT, has fully completed its contribution to the JT-60SA project and the 12 sectors which make up the vessel body have been dismantled and have undergone final minor refurbishments to eliminate potential superficial damages that may have occurred during handling and pre-assembly. A final cleaning of the large surfaces of the cryostat vessel body has been carried out, as well polishing of the inner surfaces of the sectors and sandblasting of the outer surfaces.
After a final visual inspection and other checks, the 12 sectors (which when assembled measure around 11 metres in height) were inserted in ten strong transport frames (two frames have been designed to hold two sectors each as these sectors are similar in shape and width). These frames are specially designed to resist to the heavy transport loads and any potential earthquakes or other natural disasters that could occur.
Following wrapping and sealing in strong plastic, the transport frames were covered by wood panels and a thick Tarpaulin cover. These robust and rather expensive protection systems are not only to withstand the long travel by ship and land from Spain to the JT-60SA site in Naka, Japan, but also to allow for a period of outdoor storage of the sectors in Naka as they will be arriving one year ahead of their scheduled final assembly in the JT-60SA Torus Hall.
In addition to the cryostat vessel sectors, an 11 metres long lifting beam, and an ad hoc manufactured lifting frame (which will handle the lower sectors when they have arrived in Naka) are also being shipped. All lifting equipment used in Aviles for handling the sectors (e.g. removable lifting hooks, assembly devices, bolts, spacer sleeves, nuts) and excess material from the manufacturing of the sectors will also be delivered.
In total, 36 packages and the two lifting devices, together weighing a total of 322 tonnes, are now loaded on a ship which has left from Aviles Harbour. Transportation is being carried out by French company DAHER and the goods are scheduled to arrive at the Hitachi port in Japan by mid-January 2018.