First design of Diagnostics "cable gatekeeper" approved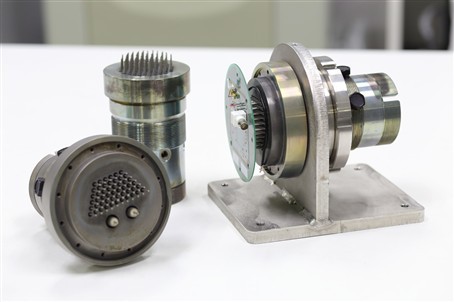 It's approved! The first design of the feedthroughs that F4E is tasked to deliver to ITER is now approved in the formal Preliminary Design Review (PDR) carried out by independent experts, F4E and ITER IO staff. The approval now paves the way towards finalising the design completely so that manufacturing of the feedthroughs can commence.
The ITER machine will contain several Diagnostics systems that will provide information during the ITER operation on variables such as the behaviour and performance of the plasma. These Diagnostics require high-tech cabling which will be connected to the system inside ITER's inner vessel where the fusion reaction will take place, and run through to the outside of the machine. The feedthroughs will work as the "gatekeeper" for the cables between the inside of ITER's Vacuum Vessel to the outside wall. In total, F4E will supply ITER with 75 feedthroughs and there are currently five different design variants. Subject to stringent requirements with regards to safety and vacuum, these feedthroughs will boast an unusual state of the art design featuring a double rather than single barrier, and which is made up of a special glass seal which is more robust than a conventional ceramic seal. This means that the vacuum created in ITER's Vacuum Vessel will be extra secure, as cables that enter from the outside of the ITER Vacuum Vessel inside will pass through two barriers before coming in.
F4E has worked closely with IDOM, a Spanish company, to develop the design which will be the basis for the production of these feedthroughs." The feedthroughs must meet many demands in terms of safety and quality. "We have been positively surprised by IDOM's capability of producing an innovative design solution for the feedthroughs that meets all our stringent and numerous requirements whilst remaining simple to manufacture", says Miguel Pérez Lasala, F4E Technical Officer who is responsible for the development of the feedthroughs.
"We carried out a great deal of R&D in order to find the optimal technical solution which has resulted in us and we developing a flexible concept that is able to accommodate a wide range of electrical signals. Our next challenge now will be to deliver a final design to F4E, fully qualified, on a constrained schedule", says Amaya Martínez Jiménez, IDOM Project Engineer.
With the preliminary design now completed, the next step is to carry out the final design and ensure it is approved. Once this has been done, manufacturing, which scheduled to start in 2021, can begin.